Vitamin Code - Perfect Weight Formula
RAW FOOD-CREATED NUTRIENTS
Vitamin Code - Perfect Weight Formula
Garden of Life


Status: Available




Our Price $33.22 (120 Capsules) (25% OFF)
Our Price $55.95 (240 Capsules) (25% OFF)


MORE INFO

---
Vitamin Code™ Perfect Weight Formula



Achieving and maintaining your perfect weight is an admirable goal that can be accomplished. However, lifestyle changes including diet and exercise often carry with them the need for additional support in the area of nutrition. More stress is being put on the body's systems due to increased exercise, immune function may not be at its peak from ingesting less nutrients and fatigue or lack of energy may become an issue due to all of the above.

In developing

Vitamin Code Perfect Weight Formula, Garden of Life®

paid particular attention to the needs of individuals working to attain and maintain a healthy weight. Providing select nutrients to support the primary area of metabolism with added Ashwagandha, vitamin B complex and chromium,† the Perfect Weight Formula also has added vitamins C, A, selenium and zinc to support a healthy immune system.† Ashwagandha, along with vitamins A, C, E, B complex and selenium are also included in the Perfect Weight Formula to help reduce stress-related over eating and carbohydrate cravings.†

Vitamin Code Perfect Weight Formula is a comprehensive multi-vitamin with

RAW Food-Created Nutrients™

offering an extreme synergistic blend of vitamins and minerals for extraordinary health and vitality. This specialized formula designed especially for those seeking their perfect weight the nutritional needs to support the following areas:

•

Metabolism

† – Ashwagandha*, Vitamin B Complex, Chromium
•

Heart Health

† – Vitamin B Complex, Vitamins C and E
•

Mental and Physical Energy

† – Vitamin B Complex, Chromium,
Iron
•

Immune Support

† – Vitamins C, A, Selenium, Zinc
•

Optimal Digestion

† – Live Probiotics and Enzymes, Vitamin D
•

Stress Response

† – Ashwagandha*, Vitamins A, C, and E,
B Complex, Selenium

The

RAW Food Created Nutrients™

found only in Vitamin Code multi-vitamins are individually cultivated with their unique Code Factors™ intact. Including live enzymes and probiotics, amino acids, antioxidants and other bioactive Code Factors, all Vitamin Code multi-vitamins offer the following features:



RAW


• Uncooked, Untreated, Unadulterated
• Binder Free — No Fructose, Maltodextrin, Magnesium Stearate
or Corn Starch
• Live Enzymes & Probiotics
• 100% Active Ingredients



Food-Created Nutrients


• Premium, RAW, Whole Food Ingredients
• Individual Nutrient Creation with RAW Fruits & Vegetables



Body-Ready


• Formulated for Easy Digestion
• Nutrient-Specific Peptides for Cellular Delivery

Going beyond vitamins and minerals, Vitamin Code Perfect Weight Formula is an excellent choice for mental and physical energy and support of a healthy heart, metabolism, and immune system.†

* The Ashwagandha in this formula was exposed to high heat during the extraction process.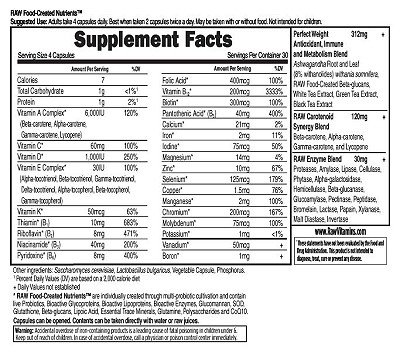 †These statements have not been evaluated by the Food and Drug Administration. This product is not intended to diagnose, treat, cure, or prevent any disease.
Copyright 2008 Garden of Life, Inc. All rights reserved.
There's a Vitamin Code for everyone!